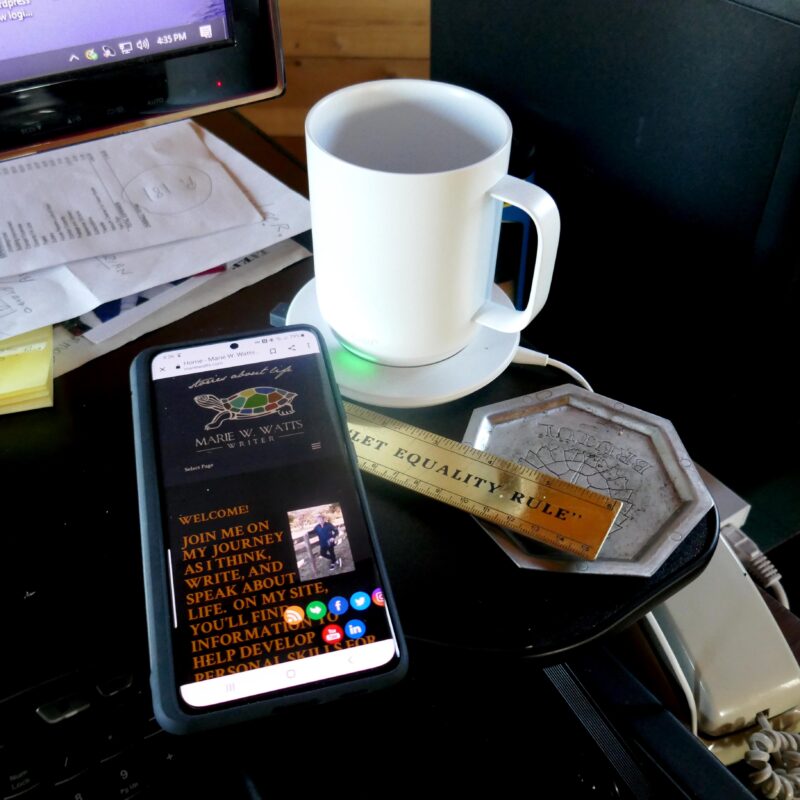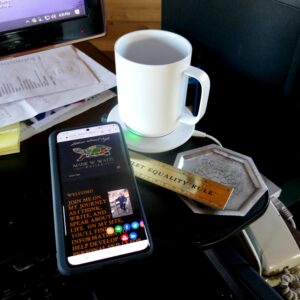 I hit the wall last week with one giant dose of technology fatigue.  For a senior citizen, I'm pretty in sync with the digital universe.  However, the learning curve seems steeper these days due to the increasing number of gadgets and streaming services.  If you look closely, you can see strands of my hair on the office floor.
SMARTPHONE TECHNOLOGY FATIGUE
The problem started when I upgraded my Galaxy Note 8 phone to a Galaxy S21 Ultra 5g.  The battery was not holding a charge and a new one was going to be almost as expensive as the AT&T trade-in program for a new smartphone.  No brainer.   Right?  Wrong!  Transferring the data was a fairly simple process.  But the phone setup drove me nuts!  My smartwatch indicated it was not synced to my phone, then rang.  I literally worked on it a week.  It took several calls to AT@T plus numerous internet searches to get the kinks worked out.
Then, the contacts on my husband's iPhone 13 disappeared.  The fix was on my shoulders.
SOCIAL MEDIA TECHNOLOGY FATIGUE
Hoping to improve book sales, I decided to join—and post to—TikTok.  Making the video wasn't the problem.  I'm good at that.  Trying to set up the account was.  TikTok will only let you make changes in your account such as passwords, etc. through the smartphone app.  My Galaxy is fairly big, but I don't type with two fingers and always hit the wrong keys.  Worse, I don't understand how the program works or why people are addicted to it.
Additionally, Facebook changed its dashboard for business accounts; I'm still trying to figure it out.  
And, don't get me started on how long I worked on OBS Studio getting ready for my March 1, 2022 Facebook Live Book Launch at 7 p.m. Central.
HOME GADGET TECHNOLOGY FATIGUE
Home gadgets I've installed this year:
Light switches:  We had a handyman install a remote switch that works with the internet, but I had to do the digital setup.  Alexa now dims the light for us.  Then, my husband and I spent untold hours of yelling and cursing installing two dimmer switches.  In the future, we'll call the handyman.
Door locks:  Our keypad door locks broke.  I reinstalled one and managed to set it up so the smartphone and Alexa can operate it.  The pushbutton one I installed in my office broke after a week.  I returned it, but while waiting on the replacement, was forced to stuff a dishcloth in the hole.  Frustrated, I let the handyman install the second one.  Programming the code was my responsibility.
Coffee cup:  My daughter gave me a coffee cup that hooks up to my cell phone.  Crazy, huh?  But I love it.  It keeps your coffee warm for hours at any temperature you desire.  You can even change the digital light color on its exterior.
STREAMING SERVICE TECHNOLOGY FATIGUE
For the life of me, I don't understand why the process to hook up digital streaming services if you have satellite is so difficult.  Setting up the Apple streaming service my brother gave me for Christmas elicited more yells and shouts from my husband than I cared to hear.  At least it was less commotion than setting up HBO Max entailed.
TECHNOLOGY FATIGUE IS NOT IN MY HEAD
I am not crazy.  Apparently the more online subscriptions and devices you have, the more stressed you are.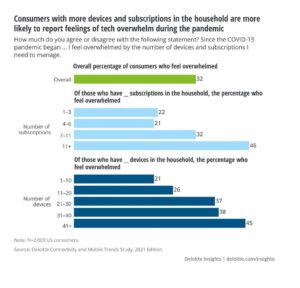 TECHNOLOGY FATIGUE SOLUTIONS
The best solution would be to chunk all the technology and go old school.  But truthfully, I wouldn't be happy.  I like warm coffee, the ability to unlock the door before I get home when I desperately need to use the restroom, and driving the tractor without having to lug my smartphone around.  Besides, I need to find out what happens to Ted Lasso.
So, I'll calm my technology fatigue the old-fashioned way with a dirty gin martini—stirred not shaken—with extra olives.  Cheers!
Sign up on www.mariewatts.com to receive future Stories About Life delivered to your email address or read more stories by clicking here.