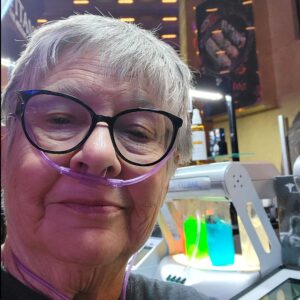 Something spurs me to walk on the wild side. Being adventurous and trying new things is part of my DNA.
Before leaving Las Vegas this week, I stopped by the oxygen bar to see what it was all about. Proponents of these establishments claim purified oxygen can help:
increase energy levels.
improve mood.
improve concentration.
improve sports performance.
reduce stress.
promote better sleep.
Besides, I'd lost enough money gambling, so I really needed all the purported benefits. I know what you're saying right now.  Watts, the truth is, you drank too much. Wish it were true. At $15 a cocktail, my frugality erupted, curbing my consumption.
Oxygen ran through four different aroma concoctions that you could adjust. I couldn't decide so I used them all—it gave a wonderful smell. Did it help? I like to think so. After all, the treatment cost me $25. Then they upsold me a Transcutaneous electrical nerve stimulation machine, the same device used to stimulate my nerves when I receive acupuncture for my knee.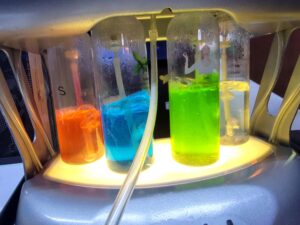 WHY YOU SHOULD WALK ON THE WILD SIDE
Actually, Trying new things is good for you. According to experts, trying something that disrupts our routine and takes us out of our comfort zone can bring astonishing benefits.
Opens new opportunities. In 2007, I screwed up the courage to attend a history museum conference in Austin, Texas because of my connection with the W. Faison House.  I went by myself, braving traffic, parking, etc. While there, I ran across a company, Arcadia Press, looking to expand their Images of America series into Texas.  The end Result? La Grange, by Marie Watts.
Builds up your wealth of experience. According to Liam Carnahan, "Wisdom is one of the most valuable and desirable human traits out there. With wisdom comes maturity, grace, and inner peace. But to get it, you need experience—and experience only comes to those who try new things."
Builds courage and character. I remember when I first took up golf. Discouraged and frustrated can't begin to describe my feelings as I chopped and swung, and missed the balls, time after time. While I still suck at the sport, I'm glad I made the effort. Being gentle with yourself while trying something new is important. Not all experiences turn out great.
Makes you a more interesting person.
On this trip I realized that, if something was new to me, I just admitted to the staff that I'd never done this before and asked for their assistance. They were glad to assist. So, if you have fears, ask for guidance.
WALK ON THE WILD SIDE—PAST ACTIVITIES
Putting my feet in water where little fish ate off the dead skin. Cabo San Lucas, Mexico.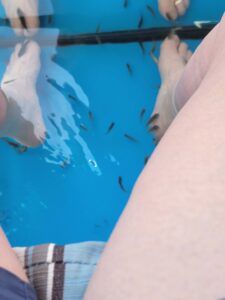 Eating Iguana and petting a sloth. Roatán, Honduras.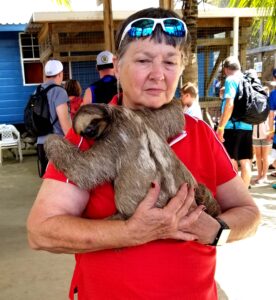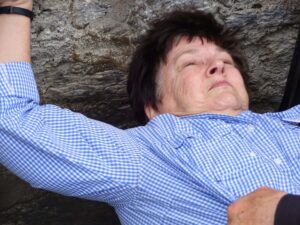 Petting Swifty, the swimming pig. Austin, Texas rodeo.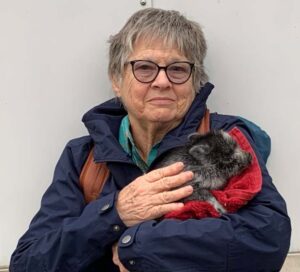 Acting as a first responder and volunteer firefighter. Muldoon, Texas.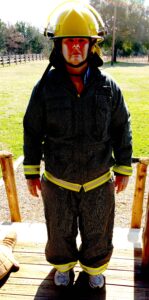 WALK ON THE WILD SIDE—FUTURE ACTIVITIES
Ax throwing is on my list. A friend and I have a place in mind. Also, I'm eyeing a trip to Portugal. Meanwhile, I'll keep an eye out and jump at any new opportunity that presents itself.
What's your next walk on the wild side?
Sign up on www.mariewatts.com to receive future Stories About Life delivered to your email address or read more stories by clicking here.