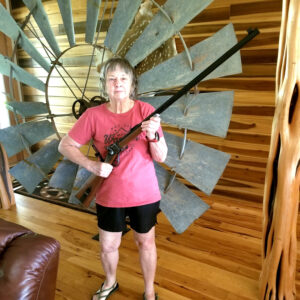 Talk about badass rifles!  I got my first look at a reproduction of the 1874 Sharps Rifle from Shiloh Rifle Manufacturing.  This beast is called the 1874 Quigley, made famous by the movie Quigley Downunder.    It weighs twenty pounds! The gun is custom-ordered and comes with your initials engraved.  A leather-fringed scabbard is optional.
 According to Wikipedia, Sharps rifles are a series of large-bore, single-shot, falling-block, breech-loading rifles, developed with a design by Christian Sharps in 1848.  Production ended in 1881. The Sharps rifles, known for their long-rage accuracy, became icons of the American Old West, appearing in Western-genre films and books.
 MY DAD'S BADASS RIFLES
Currently, my dad's hunting rifles are in my gun safe—a deer rifle (Remington 270) and a Remington 12 -gauge shotgun.  My nephew will inherit them.  But, because of the antique classification, they need to be examined by a professional before being fired.  I remember as a kid how bad the 270 recoiled, I'm not sure I'm up to the challenge of using it. 
 MY BADASS RIFLES
So, what about my badass rifles?  I don't know what to say.  I'm a cheap utilitarian person and have firearms by necessity.   The youth-sized 20-gauge shotgun is to protect us from country varmints.  The one time I needed it, I couldn't get to it.  A crazed skunk ran onto my porch in the middle of the day. I was in the yard; the gun in the house.  Path blocked by a rabid skunk!
 The feral hogs routinely gut my property, so I determined that hunting them was the best offense.  Apparently, once you shoot one of the pigs, their comrades stay away from your area for a while.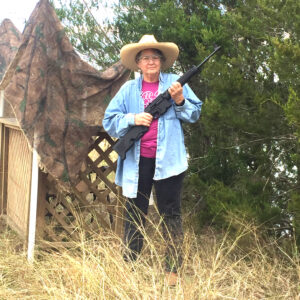 Because the shotgun won't kill a hog, I bought a Keltec SU-16, my most exotic rifle. At least the plastic-bodied gun is light at five pounds (and was cheap enough).
 I vigilantly watched the deer cam for weeks as the hogs routinely chowed down at the deer feeder.  Then one night, I sprang into action, waiting for the bastards to show.  They must have smelled me because the creatures never materialized.
 Then, of course, there's the BB rifle (not part of the badass rifles collection) I bought to chase squirrels off my birdfeeder.  I managed to accidentally hit one in the jugular vein.  Needless to say, the critter never bothered the bird feeder again.  And, I've never taken another shot at the annoying rodents.  I felt too guilty.
 My badass rifles collection is almost complete.  The last armament to obtain is a .22 rifle.  Then, I should be prepared to survive Armageddon, a resurging Al-Qaeda, civil insurrection, or loss of power for a month.
 WHY DO I OWN BADASS RIFLES?
I grew up with the Girl Scout motto "Be Prepared" and I'm a Texan.  And guns are like garden tools.  You don't use a shovel to do work that takes a spade.  So, I'm ready for whatever happens.  You'll be the first to know if I ever actually use them for the intended purpose! 
Hmm.  Maybe it's time to hog hunt again….
Sign up on www.mariewatts.com to receive future Stories About Life delivered to your email address or read more stories by clicking here.