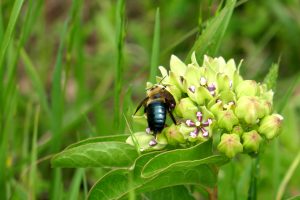 While COVID has been devastating humans, Mother Nature is not skipping a beat in central Texas.  A sparrow has built her nest on my porch and is intently tending her eggs. New calves cavort through the pastures. And the wildflowers have been spectacular this year. Bluebonnets and Indian paintbrushes lavishly cover fields and have been a godsend. Short car rides to view the spectacle have helped lower my anxiety.
For this, I am thankful. It reminds me that the circle of life is alive and well.
On the human side, I've tremendously enjoyed two recent virtual happy hours. My daughters do not live in the area, and the three of us are seldom together. But, because of mandated isolation, we were able to Zoom and had a fabulous time.  One son-in-law and my daughter's childhood friend joined us. On the second occasion, I partied with my daughters and their aunts and cousin.
Then, too, seeing inside homes of newscasters is fascinating. I focus on their broadcasting space, wondering what that says about their personalities.
Still, silver linings seem few and far between these days. Professor Laurie Santos of Yale University suggests the following as a way to cope:
Practice deep belly breathing throughout the day.
Do acts of kindness to others.
Focus on what we can control.
Exercise, eat healthily, and get good sleep.
Practice gratitude by focusing on blessings.
If you are able, join me in making an online donation to your local food bank today.