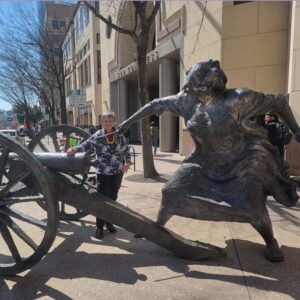 Texas hero Angelina Eberly epitomizes the grit and determination of pioneer women. She and her first husband, Jonathan C. Peyton, left Tennessee in 1822 and eventually landed in the Mexican state of Coahuila y Tejas (Coahuila and Texas) at Matagorda Bay. Settling in San Felipe de Austin in 1825 with their three children, they operated an inn and tavern with slave labor. After her husband died in 1834, Angelina continued operating until San Felipe was torched in 1836 to prevent its capture by the Mexican Army.
EARLY TEXAS HERO STARTS OVER
After the Texas Revolution, she met and married Jacob Eberly, a widower. They eventually settled in Waterloo in 1839, where they ran the Eberly House. Her husband died in 1841. Additionally, she owned several city lots. She soon found herself embroiled in the battle regarding the location of the Republic of Texas's capital.
Initially, Houston was named capital until a permanent location was selected. In 1838, a joint congressional session voted to establish the capital near La Grange, Texas. The provisions were: 1) The capital would be named Austin, 2) one square mile would be set aside for a university, and 3) Houston would remain the capital until 1840.
However, President Sam Houston vetoed the bill. The next president, Mirabeau B. Lamar, pushed the Central Texas plan in 1839 but chose a site along the Colorado River near the tiny settlement of Waterloo, northwest of La Grange.
Within the year, Lamar had moved to the new capital, now called Austin where log buildings housed the fledgling government. The archives were hauled to the new site in forty wagons. Those documents soon became the symbol of the struggle for government power in Texas. During that period, legislators, as well as Lamar, were frequent visitors at the Eberly House.
By 1841, Sam Houston had regained the presidency. He described Austin as "the most unfortunate site on earth for a seat of government", refusing to move into the official residence. Instead, he boarded with Angelina. In the fall of 1842, Mexico invaded Texas, occupying San Antonio, and giving Houston an excuse to move the seat of government. He argued Austin was defenseless.
EARLY TEXAS HERO TAKES ACTION
In December, Houston announced that Austin was no longer the capital and ordered the archives removed to Washington-On-The-Brazos. Angelina and other citizens were obviously unhappy. Moving it would be disastrous for their pocketbooks. A vigilante "Committee of Safety" was formed and the heads of government were warned that any attempts to move the official papers would be met with armed resistance.
Houston was not deterred and sent Texas Rangers to retrieve the documents. In the early morning hours of December 30, 1842, the twenty-two men had almost finished loading when Angelina discovered them. She ran to Congress Avenue, where a six-pound howitzer loaded and ready for Indian incursions was situated. Turning it toward the General Land Office, she fired. No one was injured, but the noise sounded the alarm. The wagons escaped, only to be stopped later at gunpoint; the documents were returned to Austin and temporarily stored at her house.
EARLY TEXAS HERO MAKES GOOD
Angelina moved to Lavaca (later Port Lavaca) in April 1846 and leased Edward Clegg's Tavern House. By 1851, she was running a hotel in Indianola, where she died in 1860. Her grandson was named sole heir to her estate, appraised at $50,000 ($1,700,000 in today's dollars).
And the capital? The documents remained there until Austin again became the capital in 1844.
Sign up on www.mariewatts.com to receive future Stories About Life delivered to your email address or read more stories by clicking here.