In honor of releasing the second book in the trilogy Warriors for Equal Rights, I am giving away the first book, The Cause Lives, from July 20 through 24, 2020.    The saga continues in Only a Pawn. The release date is August 28, 2020, in honor of Dr. Martin Luther King's "I Have a Dream"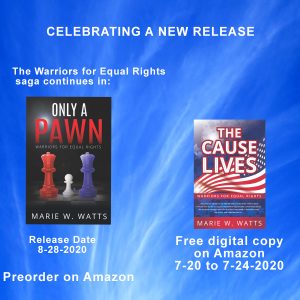 speech.  
 The journey of writing this book has been a long one, fraught with demonic writing blocks and the daily life activities of living.  Just as I was approaching the end of the novel, my husband fell and broke his hip.  Moving my office into the house while I played Nurse Ratched put me behind. Then, COVID hit.  The woman who did the beautiful book covers and typesetting was confined at home, tutoring her children—more delay. 
 In the end, everything has fallen into place. Of course, a book signing is out of the question, much to my daughters' chagrin.  They both want signed hard copies.  No telling how long it will be before I can grant their wish.
 Nevertheless, I am relieved to be able to say I have lived to launch date. I am back in my office, COVID free for now, and working on the saga's end, entitled Rhapsody by Revenge.  
Thanks to all of you who support me.  ENJOY!