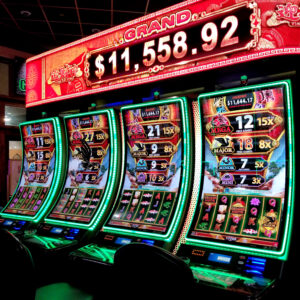 Last week my husband and I joined hordes of gambling seniors at a casino in Louisiana.  Frankly, I was stunned at the substantial number of gray hairs, wheelchairs, walkers, and scooters assembled.  Did you know that seniors make up fifty percent of casino visitors? Moreover, seventy percent of that group goes more than once a year.  For a global market expected to be valued around $525 billion by the end of 2023, seniors are vital and the industry is paying attention by catering to this group.
 Targeted Marketing at the Venue
Large numbers of handicapped-accessible parking spots
State-of-the-art handicapped-accessible rooms
Vintage Rolling Stones and other baby boomer music blaring from the loudspeakers
Ten dollars in free gambling money for opening a free advantage account plus five dollars more if you turn over your email address (Our group loves free stuff.)
Impressive selection of reading glasses in the gift shop for those of us who cannot live without them.
Free self-serve soft drinks, coffee, tea, and ICEES
 Slot machines these days are simple to operate.  While a handle to spin the wheel is still on the side, a push button makes the task effortless.  No strength required.  Moreover, the speed at which you can punch and spin is breathtaking.
 And getting a complimentary alcoholic beverage!   These machines were equipped with a button where you can order a free drink.  Pick your liquor-pick your mixer-punch!  The wait staff swiftly appears by your side with your made-to-order concoction.
 Thankfully, I am rather on the cheap side and only grudgingly give up my hard-earned money.  After losing sixty dollars to the slots in less than thirty minutes, I decided to take a break.  To my consternation, no sitting areas were available.  Even the bar had an electronic game at each stool.
 Note:  My cheap self would rather spend money at the bar on a drink than obtain a free one with a forty-dollar loss from spinning the wheel. 
 My husband loves to gamble and, with his disability, there are not many activities he can fully participate in.  Fortunately, he won and lost, had a great time, and we walked out only two hundred dollars down (mainly because I could not win $$ht.)
 The Dark Side
 For us, the outing was fun.  However, concern is mounting over the risk of older gamblers becoming addicted.  According to Ron Karpin, Roughly three to five percent of all gamblers, regardless of age, will become compulsive.  Unfortunately, many seniors use the activity as an escape from boredom, loneliness, anxiety, or depression.  Serious illnesses, dementia, or other cognitive impairments may leave them unable to use appropriate judgment or set limitations.  Check the warning signs of compulsive gambling here.
 If you gamble, have fun and stay safe.  Oh, and by the way, drink a martini and play a dollar slot for me!
Check out my other Stories About Life.