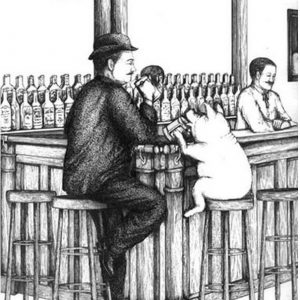 I became obsessed with genealogy this week.  My journey began when I received an email from familysearch.org, indicating they may have found one of my relatives.  I opened it up and, sure enough, my grandmother's lineage on my mother's side was laid out back to the 1700s.
I recently became a member of the Daughters of the American Revolution through my father's side of the family by tacking on to research done by my aunt.  I began to cross-check the DAR records for the relatives born in the 1700s, and patriots started popping out of the woodwork!
Fascinated by family I never knew existed, I reluctantly signed up for two free weeks on ancestry.com and seven free days on newspapers.com.  Since that time, I have scarcely left my computer.  I even forgot about COVID for an entire day.  I'd look up, startled that I had missed lunch.  Of course, that meant that I hadn't done all the other things I needed to do.
Now, it has become a race to find all my revolutionary relatives before my free memberships run out.  Right now, I'm up to around seven new ones, and I haven't even fleshed out those on my father's side.  I think there are several there I can tap into.
The newspapers.com has allowed me to find additional information on my favorite relative, Riverboat Captain Simp McKee (1859 to 1917).  He was not an honorable, patriotic sort, but a scoundrel.  He plied the Tennessee River and eventually lost his license.  Apparently, he was required to pass through a dangerous area known as "The Chute" using a winch-and-rope apparatus to navigate the risky pass.  Simp preferred to gun it because the process took too long.
Oh, did I mention he owned a "bawdy house" and had a pig that drank beer?  The family legend is that, when he died, his body was brought to Guntersville, Alabama, where he was to be buried.  He was laid out at my grandparent's house for viewing.  The madame of the whorehouse, Miss Kate, showed up to pay her respects, but my grandmother refused to let her into the house.
Oh, so many stories and history to find and so little time.  I have to cut this short…. I have research to do.