While writing the blog on Girl Scout cookies, a Scout friend told me her mother pushed a compelling sales tactic. My buddy would tell the prospective customer that she only had two boxes left. The sale succeeded more often than not.
 We both had a good chuckle when the following cartoon appeared in the Austin-American Statesman.

I ran errands today and felt obligated to stop at the Girl Scout table outside Walmart. The cookies were four dollars a box. A far cry from the fifty cents in my youth. Deciding on four, the young lady told me that, with two more, the bill would be an even twenty dollars!
 Stifling the urge to laugh out loud, I went for the ploy and am now the proud owner of a variety of delectables from the iconic thin mints to the new thanks-a-lot.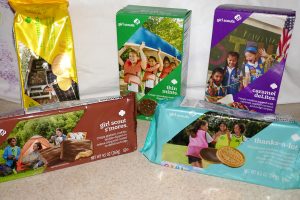 In the interest of full disclosure, I must confess that my daughter took issue with my cookie blog. Her retort to the statement that I had taken cookie orders at work was liar, liar pants on fire. In her view, I didn't lift a finger to assist in any way.  Hmm.  I may have just lifted my pinkie…