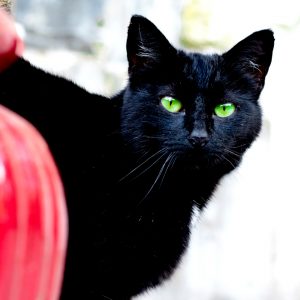 Today is National Black Cat Appreciation Day. Who knew?  While you may not be jumping up and down with excitement about today's topic, this is the best I can do. All the other themes for today's blog were just too depressing.
Legend has it that the holiday began in 2011 as a way for a brother to honor his deceased sister, a black cat lover. Originally, Bombay cats were bred to resemble panthers. These ebony kitties are also known as parlor panthers.
The day is relevant mainly because these felines are overlooked and misunderstood. Various reasons they are shunned in our country include:
Omens of bad luck.
Black coats are boring.
Black cats don't photograph well.
They are sneaky when they walk around quietly in the dark—only to be looking at you with those scary, supernatural eyes.
(And, no, I did not make this up.)
While other countries see these cats as symbols of good luck, Americans tend not to adopt them from animal shelters because we associate them with witches and other evil spirits.
Somewhere, in the recesses of my brain, I have conjured up an image of a black tuxedo cat in my childhood home. Black, with some white on its paws and face. After consulting with my brother, we concluded that we may have had such a cat, but neither of us could remember its name. Our discussion circled around the time frame for the cat. All I could remember is that it was not the one who ran away from our home after we had moved the poor creature from Texas to Alabama and back again. Must have come after that.
So, I'll encourage my cat lover friends to adopt a parlor panther in honor of this momentous day. Then, with your new best comrade by your side, toast the day with a delicious Black Cat cocktail:
4 ounces cold cola
4 ounces cranberry juice
2 ounces cherry brandy
2 ounces vodka
1/2 teaspoon syrup from Luxardo cherries and cherries for garnish
Fill two glasses with ice. Add the cola, cranberry juice, cherry brandy, vodka and cherry syrup to a shaker. Stir vigorously. Pour into the glasses. Garnish with the cherries and serve immediately.
The nice thing about this recipe is it makes two.  And since, hopefully, your cat doesn't drink, you can help yourself to the other. And, the second one can help COVID disappear for a few blessed minutes.
Photo by Ameya Sawant on Unsplash