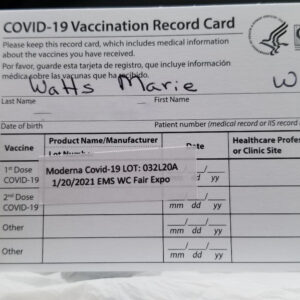 I won the COVID vaccine lottery! My good fortune mind-blowing. And frankly, my excitement about the windfall is higher than that of winning the Powerball jackpot. (Well…not really. That's a lie.  Hitting the billion-dollar lotto would have enabled me to have the shot delivered to my home on a silver platter. Seems the rich have the ability to skip the waiting line.)
 My spouse and I worked for the privilege. After hearing a rumor of a subhub coming to a neighboring county in three days, I spent time researching the signup process. Then, my husband began calling at the moment the office opened—8 a.m. (no internet signup available). By noon, after fifty calls with no luck, he was disgusted. 
 I agreed to take over.  An hour later, I dialed and whammy!  First Try! A recording said my call would be returned within twenty-four hours. The recording even read back my phone number. Amazingly, that magic response came within the promised time frame. Many thousands of others were not so lucky.
 We were scheduled for Thursday morning at 7 a.m. but received a call the day before our appointment moving it to 3 p.m. that afternoon. Dropping everything, we made the hour drive. 
 THE VACCINATION ROUTINE
   The drive-through operation in Brenham, Texas was impressive and well-run, having us in and out in fifty minutes. The routine is as follows:
Stay in your car. Short sleeves are requested.
The first station is to confirm you are on their list. Identification is checked. A large dot of blue washable paint is put on the outside of your windshield.
The second is to verify whether your paperwork has been completed. If so, a green dot is added. If your paperwork is in order, you are allowed to pass those who are sitting in their cars working on them.
The next stop deals with temperatures and a few questions about recent illnesses. 
A red dot means you are good to go.
Pulling into one of the bays, you are handed a shot card and a yellow stickie is placed inside your windshield indicating the time you may pull out of the parking lot. 
The tech then gives the shot in your left arm. My husband was driving, so I sat behind him to get my stick. 
After leaving the bay, you join the line of those waiting the required fifteen minutes. 
Once your time is up, you are free to go. 
Believe me, the date of the final dose is seared in my calendar as well as my brain. Despite being one shot closer to immunity; I won't give up my mask for months. I'll just feel safer going out.  
Here's wishing you all the luck in winning a coveted immunization.