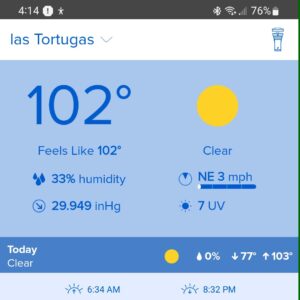 The heat is eating me alive.  It's a downright scorcher at the ranch. My personal weather station is registering 102° while Austin is a sizzling 103° and it's only 4:15 pm on July 9, 2022.
How vicious is the heat, Marie?
I'm glad you asked. It's so hot that a chocolate hunk in homemade cookies sealed in plastic melted enough to leave smudges on the bag during the walk between the store and my car.
For y'all who aren't from around here, Texans have sayings for this kind of weather:
Hot as Hades.
Hot as the hinges (or hubs) of hell.
Hot as a depot stove.
Hot as a two-dollar pistol.
Hot as a billy goat in a pepper patch.
Hot as a summer revival.
Hot as a pot of neck bones.
Hot as a stolen tamale.
Hot enough to fry eggs on the sidewalk.
Hotter than whoopee in woolens.
Hotter than a honeymoon hotel.
Hotter than a burning stump.
Hotter than blue blazes.
Hotter than a fur coat in Marfa.
So hot the hens are laying hard-boiled eggs.
Unfortunately, the heat dredges up dreadful memories of the summer of 2011.  Right now, we are on track to smash those records. That year, Austin's official weather reporting site hit 100° on ninety days, by far the most ever recorded, since record-keeping began in 1897.
How bad was it, Marie?
Terrible!
Our large tank lost so much water that we were able to build a pier without sinking the posts into the water. That's the only time in twenty years the water level has been that low.
The grass was brown for months on end. The cows needed hay.
The electricity bill was obscene.
Over seventy-five trees died because of drought conditions.
The county next to us, Bastrop, went up in flames. Known as the Bastrop County Complex fire, it was one of the most destructive wildfires in Texas history. It started in the middle of the night.  and it was just my luck to be flying to Aberdeen, South Dakota to do an employment discrimination investigation the next day. My flight left at 6:30 am and I started out in the pitch black. But, alas, Bastrop County lay between me and the airport.  Shortly after I hopped on Highway 71 North, I was diverted.  While paralleling the highway to the east, I could see flames shooting hundreds of feet into the air even though I was no where close to the fire. I made it to the airport with minutes to spare. Upon my return several days later, I could see the smoke billowing from the Austin airport.  Again, traffic was detoured.  Believe me, I took special care when filling out my expense report to explain why I racked up so much mileage for the trip to and from the airport.
The remains of the dead trees have been a struggle. Most of the 2011 victims were cedar and we've been intermittently cutting them down and allowing others to haul away the wood.  But there are still some upright and they're just like birthday candles.  If a spark lands on them—POOF! And some whole trees are still on the ground. We've also been trying to cull the dead oak trees but haven't completed the task. Because of the burn ban, I can't torch all the branches that are piled around. At least I had the foresight to keep the area around the house and barn clear.
And about the electric grid…. Don't get me started. If it goes out, there's nowhere to run, nowhere to hide. And, worst of all, no ice for iced tea.
So, I'm huddled in my office with the drapes closed, constantly watering the poor plants that are still alive, and just trying to keep my spirits up. At first, I thought about wishing for a hurricane, but am not sure I could handle another Harvey—thirty inches of rain and the nearby town of La Grange a disaster area.
Sigh, what's a girl to do?
Sign up on www.mariewatts.com to receive future Stories About Life delivered to your email address or read more stories by clicking here.