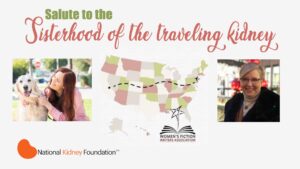 An extraordinary kidney donation will occur on March 29, 2022. Two women, whose lives intersected on Zoom during COVID lockdown, will become one. The daily Zoom meetings were spawned by the Women's Fiction Writers Association as a way to stay connected to the writing community during the pandemic. Writers from all over the world come together for a two-hour session, announce what they are working on, disappear to write, and return to share their progress. At the end of the session, the attendees can ask questions, pick brains, or share joys and concerns.
 The group was aware of Kelly Hartog's struggles with kidney disease and was delighted when fellow writer, Pamela Stockwell, stepped up to help. Her kidney will be removed in New Jersey just after sunrise and flown to California where it will be transplanted into Kelly before sunset—Lord willing and the creeks don't rise. Remarkably, they have never met in person.
 You can follow the excitement tomorrow at a life Facebook Event  March 28 from 11 PM through March 29 at 10:45 PM (CDT).
 Pamela's loving act of kindness brought back fond memories of my dad's kidney transplant fifty years ago in October 1971. The field was new then, the first successful kidney transplant was done in 1954. It wasn't until 1972 that Medicare begin covering Kidney transplants so most people couldn't afford one and few hospitals offered that option.
 Fortunately, my dad was treated at the VA hospital where the transplant program began in February 1971. He was their seventh transplant patient. His sister matched so well the doctor said it was the best one they had had short of twins. This was fortunate because the main anti-rejection drug, cyclosporine, wasn't routinely used until circa 1978.
 Both were hospitalized at the Houston VA hospital and put in operating rooms next to each other. My dad woke up feeling marvelous and asked for something to eat. The staff brought him a bologna sandwich (How times have changed!) and he declared that was the best sandwich he had ever eaten. My aunt, on the other hand, felt horrible. When I visited after the surgery and told her how great my father felt, she stewed! She never let me forget this story.
 Unfortunately, we lost my dad in 1997. The medical community was unaware at the beginning of the danger sunlight posed to people on anti-rejection medication and his skin cancer eventually morphed into the danger zone. The transplant gave him twenty-five extra years allowing him to become president of Borg Warner Chemicals in Europe, traveling so frequently that he required an extension to his passport. He was blessed to live to meet his grandchildren. Moreover, I was granted an opportunity to have a relationship with him as an adult.
 For more information regarding kidney donation, visit the National Kidney Foundation.
 Thanks to fellow writer Carla Damron for the links below:
 You can read more about their journey in Pamela's blog and Kelly's article. And, if you wish to join me in donating, check this link for Kelly and this one for Pamela.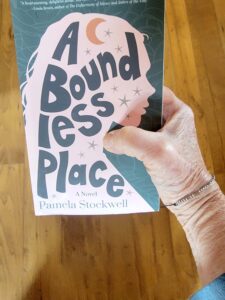 Another simple way of showing support for Pamela is by purchasing her novel, "A Boundless Place". You won't be sorry you did. It's a great read. Please leave a review on her Goodreads page or anywhere else an option is available to leave a review!
Sign up on www.mariewatts.com to receive future Stories About Life delivered to your email address or read more stories by clicking here.