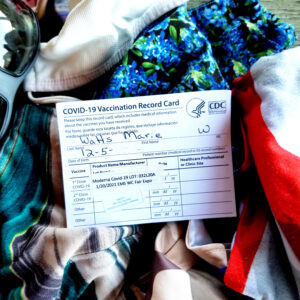 In ninety-six hours, I will have full immunity from COVID thanks to two doses of the Moderna vaccine.  The twenty-five million of us to be fully vaccinated represent only seven percent of the U.S. population.  My fortune is astounding.
Suddenly, the world is my oyster.  How will my behavior change?
In some ways, not at all.  Out of respect for those who have not yet been vaccinated, masks and social distancing will remain part of my public routine.  The variants, after all, are a troublesome snag in the road to normalcy, and guarding against them a priority.  Personally, I believe masks will be part of our future, especially when using mass transit or in tight, crowded spaces.  COVID, in my opinion, will continue to be a threat, along with the flu. 
Already, I am planning a get-together with a neighbor who has completed the inoculation regime.  Others on our block who are now safe will be invited.  And, an upcoming visit with our children will be much less fraught with anxiety.  
Beyond that?  Frankly, I'm ready to hit the road.  I've got places to go, people to see, and things to do. 
So, join me tonight in drinking a martini to toast the future.  Two thousand twenty-one's rocky start be damned.  It's going to end with fireworks, parades, dancing, and a hell of a good time for all. 
P.S.  Everyone, please get vaccinated as soon as possible so the party can begin in earnest!