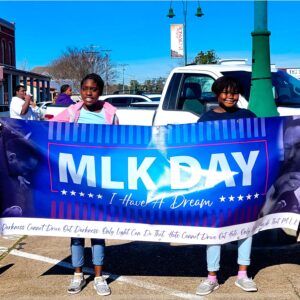 Dr. Martin Luther King Jr. would be amazed by the 2023 MLK Day celebration in the small Texas town of La Grange.
Nestled in Fayette County just southeast of Austin, the county has a long and distinguished African American history. Freedom Colonies abound and La Grange carries the distinction of being the home of one of the first freedwomen in Texas to own property, Louisiana Brown Faison. Just prior to the Civil War, the county was 33% African American. Today, only 6% of the population is. Moreover, this rural county of 25,000 residents voted overwhelmingly Republican in the last presidential election.
And yet…….
The parade route from the county courthouse to the library and archives and Louisiana Brown's house went down State Highway 71, blocking traffic, not through the side streets.
Whites joined the walk to honor Dr. King and show their understanding and respect for everyone.
The march was peaceful, no hecklers or counter protestors in sight.
That we are making progress towards Dr. King's goal of economic justice became evident to me during the event. In October 1967, Dr. King asked Philadelphian students at Barratt Junior High School "What is your life's blueprint?" The Reverend was speaking of a plan to upward economic mobility.
Dr. King cracked the door and parade participants slipped in! The motorcycles and slingshots of attendees from Houston were proof.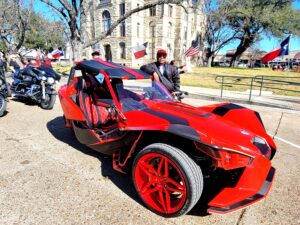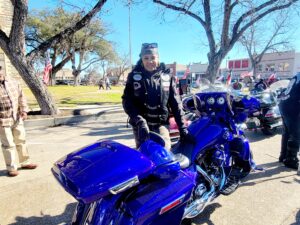 Unfortunately, according to the Rockefeller Foundation, we still have a tough road ahead:
"More than 50 years after the Civil Rights Act, Black–white family income disparities in the United States remain almost exactly what they were in 1968. The unemployment rate for Black workers remains about twice what it is for white workers. As of the last quarter of 2019, the median income of a white worker was 28 percent more than the median income of a Black worker, and 35 percent more than the median income of a Latinx worker.[1]
"Black home ownership, a sign of the racial wealth gap, stands at about 40.6 percent, compared with 73.1 percent for whites.[2] And in 2018, Fortune 500 CEOs, who earned approximately $14.5 million on average, include just four Blacks and 10 Latinx—less than 3 percent of the total, although they comprise 31.9 percent of the U.S. population.
"Over these past brutal 12 months, while the 10 wealthiest men in the world have added $347 billion to their collective net worth, the poor have become poorer, with nearly 8 million Americans falling into poverty since this summer.[3]
"If Dr. King were here today, witnessing the national response to the pandemic and the economic gutting of so many American families, I believe he would not mince words. He would call out America for its hypocrisy.
"We may be economically rich, he would say, but we are morally destitute."
FUNTIMES offers these tools to develop upward economic mobility:
Building social capital can be a gateway to social mobility. Social capital is defined by the Economic Times as "the value of social relationships and networks that complement the economic capital for economic growth". For youth, this may mean seeking experience and network-building endeavors such as internships or volunteering and joining niched networking communities.
Accessing financial assistance like educational scholarships for students and business grants may catalyze economic mobility.
Increasing highly valued skills may help individuals earn higher-paying (sic) and more flexible jobs. Explore high-income skills.
Investing in assets like adult education pathways, job training and more has been proven to link to single mothers' accessing economic mobility, as evidenced in a study by the University of Illinois, Urbana-Champaign. An asset is defined by Investopedia as a resource that has current, future or potential economic benefit for an individual or entity. Learn about wealth-building assets.
Cultivating financial literacy like budget curation, building good credit, financial goal setting and saving may be a game-changer. It is never too late or too early to improve and put to use financial literacy skills. Learn financial wellness tips.
As a society, it is our responsibility to remove systemic discrimination barriers and allow everyone equal access to upward economic mobility.
Sign up on www.mariewatts.com to receive future Stories About Life delivered to your email address or read more stories by clicking here.