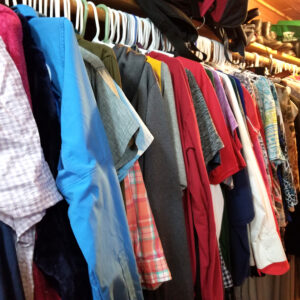 In January, I wrote about my body transformation journey.  The trek has had its ups and downs, but nearing thirty pounds of weight loss is thrilling.  Developing new habits and staying in line with consuming a net twelve hundred calories a day has not been easy, but the Noom platform has helped tremendously.  The steep slope I conquered by visiting an all-inclusive resort in Mexico and only gaining one pound made me giddy with excitement.  (Constant exercise, including a hike up a steep jungle mountainside and kayaking, helped.)
For several weeks, my daughter has been offering to help remove those clothes that do not fit from my closet.  Like many others who struggle with weight issues, I have both fat and skinny clothes.  Fortunately, some of the smaller garments fit well now, so finding something to wear is not an issue.  Besides, with seventeen pounds to go, buying new outfits makes no sense.
However, somewhere within me, warning bells erupted: 
DO NOT DUMP THE BIGGER SIZES.  YOU MAY NEED THEM.
To sustain the loss, believing myself to be a healthy person who maintains an appropriate weight is crucial.  Keeping the clothes signaled deep-down feelings that the pounds will eventually return.
I am now committed to believing in myself.  As a show of determination, I conned my husband into the closet to do a small purge, removing about thirty shirts.  While a good start, two drawers of pants and shorts await attention, as well as a massive collection of t-shirts.
Now, the hard work of truly convincing myself the loss is final and seeing it through to the end begins.
P.S.  The fat reduction has taken my cholesterol from borderline-high to within appropriate limits and eased bursitis that plagues me when on my feet too often.  Truly a blessing.