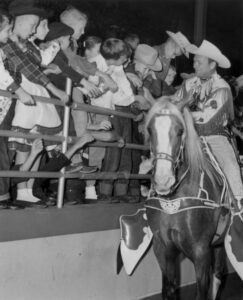 My first rodeo wasn't the 2022 Houston Live Stock Show and Rodeo. Over the years, I've seen Sonny and Cher, Charlie Pride, and Bob Dylan, to name a few. Sigh, yawn. Performances in the Astrodome, then in NRG Stadium, never dazzled. The dome's sound system was atrocious, making the pop duo sound even worse than usual. Then, NRG is so gigantic (seating 72,000) that the performers look like ants even with good tickets.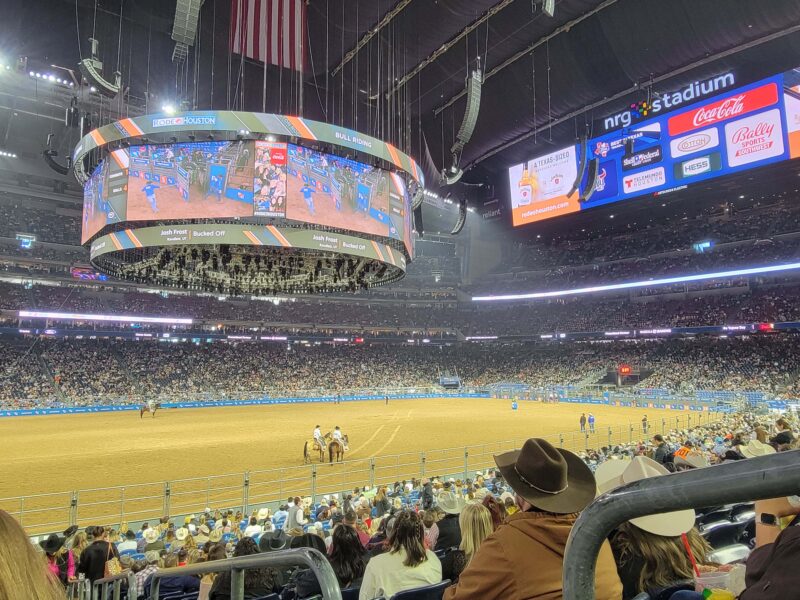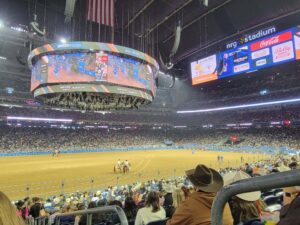 My first rodeo was the best—Roy Rogers and Dale Evans at the Houston Coliseum. (The name was then the Houston Fat Stock Show and Rodeo). The small venue held only held 9,000 permanent seats. And, we were several rows from the floor of the arena. To this day, I can still visualize Roy (I actually saw his face) standing next to the trusty steed, Trigger, spotlights illuminating every move. When asked to count, the stallion pawed the ground, dirt flying from his hooves. (Yes, we sat close enough to see the dirt move.) Other tricks followed. In fact, Trigger was said to know one hundred of them, including walking fifty feet on his hind legs. He could also sit in a chair, sign his name "X" with a pencil, and lie down for a nap (including covering himself with a blanket).
(A bit of trivia: Trigger was originally named Golden Cloud. Rogers tested him for a movie and knew it was a match made in heaven. Another actor commented the horse should be named Trigger because of his speed. The name stuck.)
Awe and wonder engulfed me, gluing the experience in my mind forever. About now, I'm thinking that the good old days were better. Stars were close up and personal; rodeos were true grit, not glitter and fireworks. But going back to the 'good old days' is not an option for me.
I remember watching the Roy Rogers and Dale Evans show on television. Evans was frankly one of few women on TV who was not sidelined to keeping house and cooking dinner. Most episodes involved rescuing the innocent and helpless from evil-doers.
However, she was still subordinate to Roy and his male sidekick; his helper only. He made the decisions and took physical action against the bad guys. It wasn't until the 1970s that women were shown in a different light in series such as The Bionic Woman and Wonder Woman.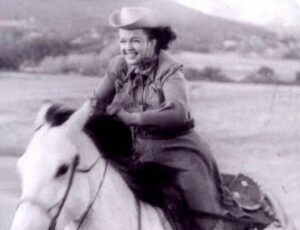 Sadly, I have no memory of Evans or her horse, Buttermilk, during that performance. The woman was talented in her own right (Roy did not make her a star) and is not given sufficient credit as a singer, songwriter, actor, and writer. Her bestseller, Angel Unaware, helped change public perception of children with developmental disabilities. Writing credits include numerous religious and inspirational books. In addition to their successful TV show, Evans starred in more than thirty films and had a productive career as a jazz, swing, and big band singer. Her songwriting abilities produced some two hundred songs, including the TV show's well-known theme song "Happy Trails."  
In her exhibit at the National Cowgirl Museum and Hall of Fame, Evans is quoted as follows:
'Cowgirl' is an attitude really. A pioneer spirit, a special American brand of courage. The cowgirl faces life head-on, lives by her own lights, and makes no excuses. Cowgirls take stands; they speak up. They defend things they hold dear.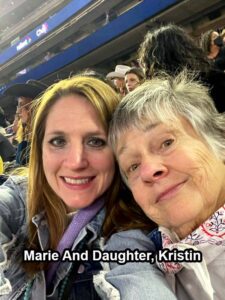 I'm sad social norms wouldn't allow her to reflect that attitude on national television and in live performances. My generation was deprived of a much-needed female role model. Thank goodness we have wonderful ones today.
Sign up on www.mariewatts.com to receive future Stories About Life delivered to your email address or read more stories by clicking here.