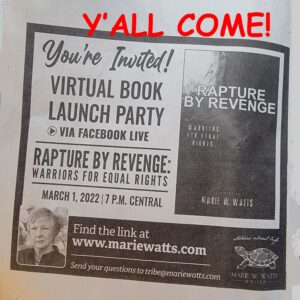 Tomorrow my novel-writing journey will reach a milestone with the release of the last book of my Warriors For Equal Rights trilogy, Rapture by Revenge.
All Alice wants is to make it to retirement. Her boss has other ideas.
As Alice's team celebrates significant victories in bringing workplace discriminators to justice, their federal investigative unit is served a one-two punch. The head of the agency, angry that Alice plunged the EEOC into a brutal House subcommittee hearing, suspends her indefinitely without pay and closes the office, sending the staff to the four winds.
Alice begins a self-spiral of regret and recriminations: her reputation in tatters—her self-esteem at an all-time low. Paralyzed, she watches as her coworkers struggle to pull themselves out of the pit of Alice's making and forge a path to redemption and self-fulfillment.
Will Alice manage to exact the revenge she needs to begin to live again?
The idea for a trilogy percolated for years, but I couldn't get a grasp on how to start. Then, too, the manuscript would be heavy with conversation. That just didn't seem right. When I discussed the issue with a book coach around 2011, her response was "So?"
Reassured, I began the first book of the trilogy, The Cause Lives, in January 2012. However, the title was Equality Rules. Why? Because I have a ruler from the EEOC saying "Let Equality Rule." (You never know as a writer what influences you.)
Between 2012 and its publication in February 2019, I wrote and re-wrote, working with book coaches. Additionally, I attended writing classes and pitch conferences in Austin and New York; all the while working full time.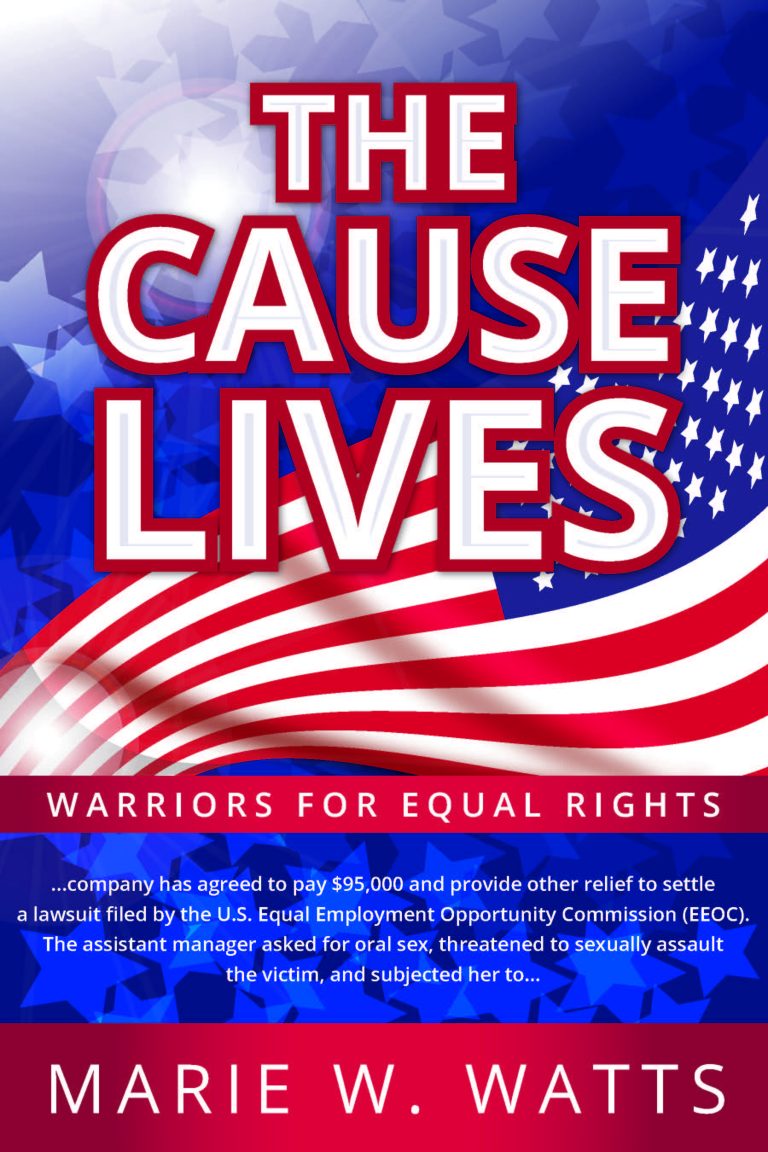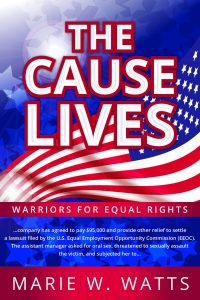 The first cover for The Cause Lives was a gorgeous patriotic theme. I loved it. However, after numerous comments, I soon realized that the cover was distracting from my message as Trump and the   right-wing had highjacked the flag. So, I changed to Lady Liberty.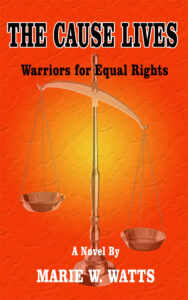 The middle book, Only A Pawn (August 2020), came sooner, mainly because I had started it while The Cause Lives was unpublished. But the pandemic put kinks into book signings and speaking engagements. Sigh.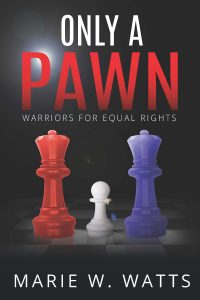 Fortunately, I joined the Women's Fiction Writer's Association early in the pandemic and fell in with a wonderful group of writers who gather daily to write together. The group, known as the Write Inmates (I'm inmate #78949), saved my life and supported me through the process. Through their support, Rapture By Revenge was created.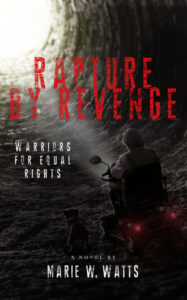 Here's a taste of what you'll find in Rapture as Alice thinks about the boss who fired her:
 Evil thoughts erupted from Alice's fried brain. The Ruger LCP 380 she'd purchased when the Mexican mafia threatened the office was in a nearby drawer. I could just shoot her—the witch deserves it. She's ruined my life, Alice thought. She visualized firing a single bullet that pierced the evil woman's forehead, the limp body falling backward. Blowing the smoke away from the barrel, she slipped the weapon into her purse. Then, taking a seat at the chair's desk, she began to send e-mails telling all employees they were free from the clutches of the conniving dragon lady. I wish.
You are invited to join me for a virtual Book Launch Party on Facebook Live tomorrow at 7 p.m. central. You can find the link at www.mariewatts.com. Those in attendance will be eligible to win a signed copy of Rapture. I hope to see you there. If you have any questions you'd like to ask, send them to tribe@mariewatts.com beforehand or during the party.
Most importantly, thanks for your support.
Sign up on www.mariewatts.com to receive future Stories About Life delivered to your e-mail address or read more stories by clicking here.