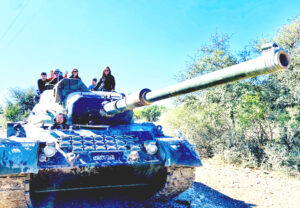 COVID destroyed my plans to take the family on a western Caribbean cruise to celebrate my birthday.  Rather than sipping rum punches onboard ship, the party moved to Uvalde, Texas.  There, my daughter treated me to a tank and machine gun package to salute the big day!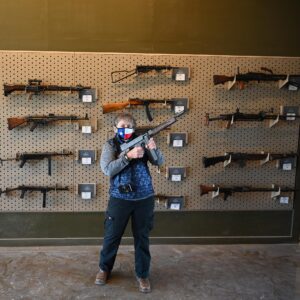 Yes, I took the clan for a spin in a REAL German leopard tank.  Apparently, the grandsons had a bit of a scare as my foot was heavier on the accelerator than they had anticipated.  The ride was great fun as I drove the vehicle up the riverbed and onto muddy turf from an overnight rain.  Then, we all fired a machine gun.   
 It was the experience of a lifetime and a wonderful adventure.
 During this time of COVID, we should remember Helen Keller's words: 
 "When one door of happiness closes, another opens; but often we look so long at the closed door that we do not see the one which has been opened for us."
My birthday wish is that, for this Christmas season, we search for the new door that awaits us.