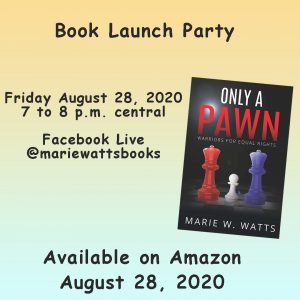 Only A Pawn, the second book in the Warriors for Equal Rights trilogy, will be available for sale Friday, August 28, 2020 on Amazon. Click Here to preorder. I chose this date because it is the anniversary of Dr. Martin Luther King Jr.'s I Have a Dream speech. His words are still as powerful today as they were fifty-seven years ago.
And, of course, the gang is working harder than ever to bring discrimination offenders to justice.
All Alice wants is to do the right thing. But the powers that be have other ideas.
Alice's struggles to meld her dysfunctional team into a crack federal investigative unit bringing workplace discriminators to justice have paid off. She doesn't regret the corners she cut to mete out justice. But one egregious offender continues to elude her. As she fights to nail the affluent, arrogant sex harasser, obstacles appear.
To make matters worse, a new employee, Royce, sends the office into chaos all the while the staff's personal problems distract from their essential work. The stress and anxiety send Alice into rehab. Meanwhile, her team attempts to fend off the federal auditor bent on ending Alice's career over her shoddy recordkeeping and failure to adhere to the rules. Barely surviving a brutal grilling from a House subcommittee, Alice feels the harasser will go free.
Will a white knight arrive in time to rescue Alice from checkmate?
For those of you anxious to learn what happened to the sex harasser in the Bighorn Outfitter's case (think lion), you won't be disappointed. I promise a resolution you'd never expect.
I am holding a Facebook Live Book Launch Party from 7 to 8 pm central on Friday, August 28, 2020. Please join me by going to my Facebook page at @mariewattsbooks.
I'd love to chat with you.
If you'd like to send me a question you want answered during the party, please send it to tribe@mariewatts.com. Have you ever wanted to know why Singapore slings are the drink of choice? Or where did I get the idea for Dexter? I'll be happy to share.  I won't promise to answer every question. A woman needs to keep some secrets to herself!