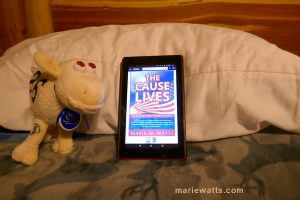 Until this year, I had no idea a National Read in the Bathtub Day (February 9th) existed.  That got me to thinking about when and where I read. And it is definitely not in the bathtub, mainly because I haven't lived in a house with a tub since 2003.  I'm a shower person and, if I were rich enough, would install a sauna where I could relax all day in warm mists.
 Even when I had a tub, I seldom took reading material into my bath. I'm a real book stickler and don't believe in defacing them.  Wet pages that have dried are real bummers. In college, I avoided used textbooks because of all the underlining and notes. My practice was to make my own notes on paper and study those.
 Then, too, my preferred way to consume written material is on electronic readers. Last year I read Grant, by Ron Chernow, a monster of a book. Amazon's shipping weight for the 1100-page tome is 3.2 pounds!  I couldn't hold it in bed, so I took it back to the library and got the electronic copy.  And, I would not dare take my electronic reader to bathe as, knowing my luck, it would end up fried.
 So, I'll forgo this holiday and proclaim December 5th, (which just happens to be my birthday) as National Read Your Electronic Device in Bed Day. 
 You'll know where to find me on my special day!