Today is "Send a Card to a Friend Day." Who knew? Greeting cards have been around since the 1400s, but I have a sneaking suspicion that greeting card companies whipped up this day to sell their wares. Sites even have hashtags such as #SendACardToAFriendDay to allow you to spread the word on social media. (Note: My limited research on the web could not confirm my hunch. If you know its origins, please let me know.)
 HANDWRITING YOUR SEND A CARD TO A FRIEND
Apparently, the thing to do is handwrite the cards. Grr. This involves buying stamps unless you hand deliver.
 Why go old school? Handwriting cards has its benefits. It can ease stress, sharpen your writing skills, and improve your wit. Really? Unfortunately, handwriting can reveal more than five thousand traits, from how you shape and space your letters to how much pressure you use. Hmm….TMI….
 On second thought, I'll just send typed cards because my handwriting is so poor. My family moved to Alabama when I was in second grade. The state did not teach cursive until third. We promptly returned to Texas, where my peers were skilled in the art of longhand. My left-handed father (bless his pea picking heart) took it upon himself to teach me the skill. After high-school graduation, my French teacher told me that, upon seeing my handwriting for the first time, she thought I was dumb.
 Never fear, if you're penmanship is on my level, you can always hire a company to draw/write/design a greeting card for you.
 WHAT TO WRITE IN YOUR SEND A CARD TO A FRIEND
 Believe it or not, one group even makes it easy by suggesting what to put in the card:
Include a memory in your card. "Remember when…"
List qualities you admire about your friend.
Thank your friend for something he or she taught you.
End with a thoughtful question to encourage them to write back.
 So, here's my greeting card to each of you. I consider you my friend: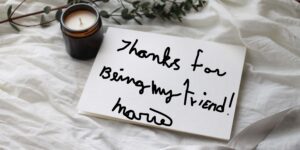 Photo by Oksana Berko on Unsplash
Sign up on www.mariewatts.com to receive future Stories About Life delivered to your email address or read more stories by clicking here.