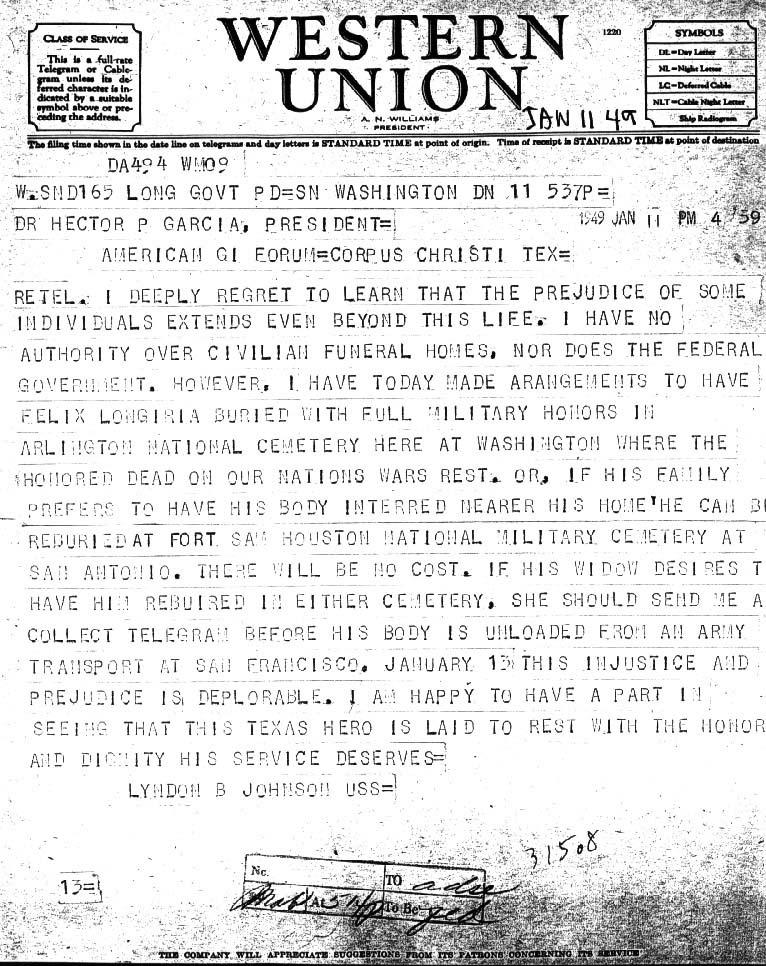 While wandering through a museum at the Lyndon B. Johnson State Park & Historic Site, I came across a story about LBJ of which I was unaware.  A congressman since 1937, he won election to the Senate in 1948, but only by a slim margin of 87 votes, earning the nickname "Landslide Lyndon."  The extra votes were said to have been cast by dead people.  However, no sooner than he had he taken office; he faced a dilemma.
His widow went to the only funeral home in his hometown of Three Rivers, Texas (between Corpus Christi and San Antonio) asking to use the chapel for his wake.  At that time, the cemetery was segregated.  According to his widow and a civil rights activist who assisted her, the funeral home owner refused, citing problems with Mexicans getting drunk and causing problems during wakes.  Besides, whites wouldn't like it.  While there is controversy to this day about why the use of the chapel was denied, contemporaneous notes and witnesses point to bias.
 The civil rights activist appealed to LBJ who handled it by arranging for the WWII hero to be buried at Arlington National Cemetery at no cost since the federal government had no authority over civilian funeral homes. 
 The telegram, in part, read:
 This injustice and prejudice is (sic) deplorable.  I am happy to have a part in seeing that this Texas hero is laid to rest with the honor and dignity his service deserves.
 He and Lady Bird, his wife, attended the February 16, 1949 funeral as well as a personal representative from the White House. 
 Where did LBJ find the courage to act while representing a very segregated state? Perhaps it was because he had taught disadvantaged Mexican-American students in south Texas while earning his college degree, making him able to connect with them as individuals and look past the notion that race is the deciding factor when determining who is superior. 
 Whatever the reason, I am grateful for his extraordinary bravery and how he later championed the Civil Rights Act of 1964.