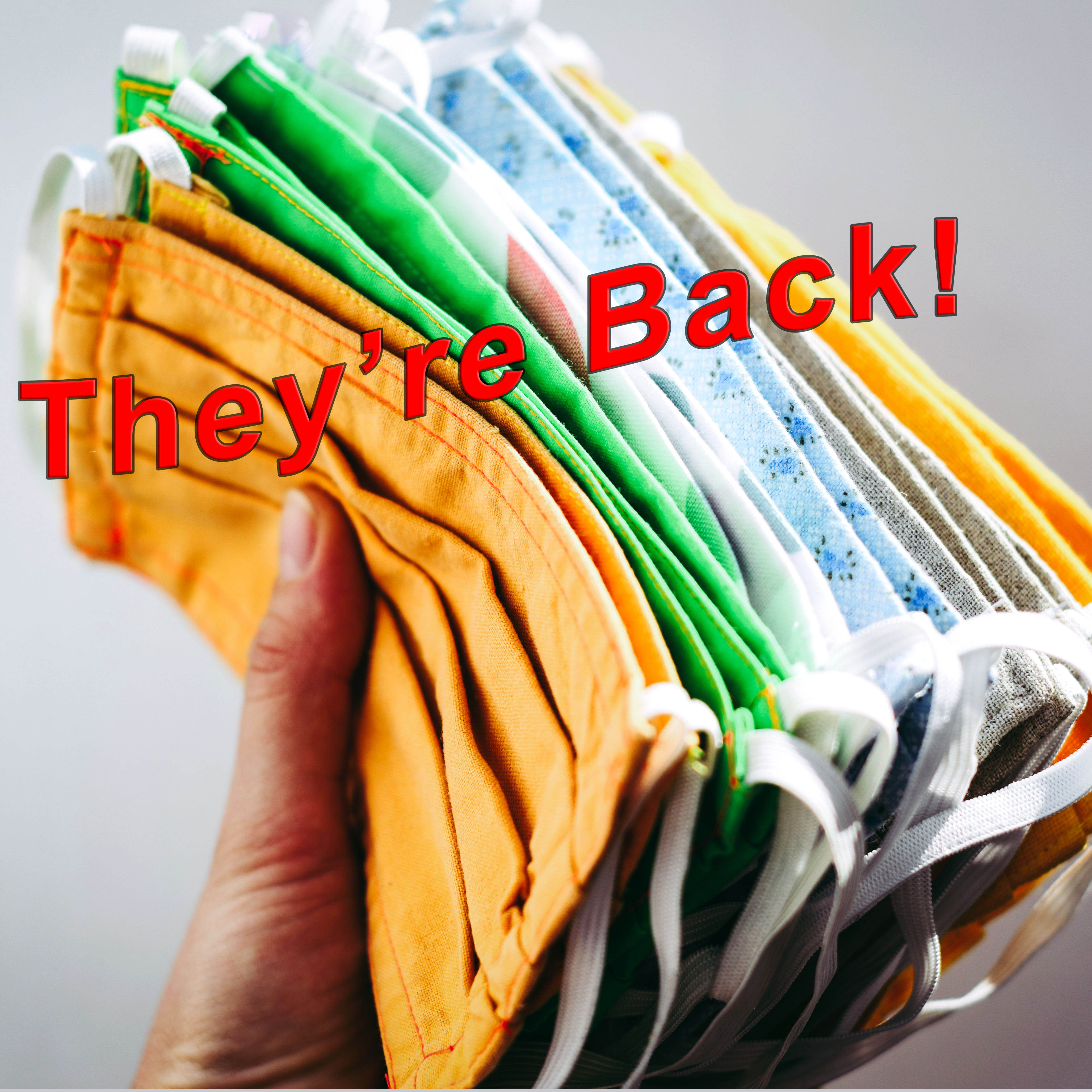 Scary stories I heard in Houston last week made me realize the mask is back. Frankly, I paid little attention to the CDC guidance on July 27, 2021, recommending fully vaccinated people to wear a mask in public indoor settings in areas of substantial or high transmission. My psyche was geared to the idea that I am vaccinated—and safe.
Then, on Thursday, July 29, the following happened:
• My older daughter's childhood friend was vaccinated but caught it from her unvaccinated sister, who is very ill. And, the friend is sick enough to be uncomfortable.
• The hospital nurse who lives across the street from my younger daughter told us of cases of vaccinated people coming in for treatment, some needing oxygen. Her parting words were "Be safe out there."
• My former son-in-law, who works for a NASA contractor, said that a new ruling had just come down that anyone entering the Johnson Space Center was required to mask up.
Sigh.
Here we go again.  The masks are back…
At this point, my energy is spent. Besides, railing against those who failed to get the vaccine won't get me anywhere but worked up, angry, and in a snit.
So, I pulled several masks out of my sock drawer to ensure an adequate, clean supply in my purse and wore one into the hairdresser and grocery store on Friday. (Thank God I am so cheap that it never occurred to me to throw them away after being fully vaccinated at the end of February.) Right now, I'm resisting one in the gym. The majority of the time I can stay six feet away from others. Time will tell whether my thoughts on this will change.
At least this time around, the sensation that I will die if I go out in public, even with a mask, won't haunt me. Remember the early advice to wipe down handles of the grocery cart, disinfect products from the grocery store, and wear gloves as well as spray door handles and surfaces frequently with disinfectant? When accidentally getting within six feet of another human, I would melt down.
Fortunately, the mask and vaccine make me feel safe, secure, and less threatened. I will continue with normal activities—not hide in my house.
So, for now, I'll try to look at the bright side of the mask issue. I'll get a flu shot and, with a face covering, the odds of getting that bug or the RSV (Respiratory Syncytial Virus) that making a comeback, will be low.
Hmm. Maybe I'll even buy a new holiday-themed one. They are most likely with us for the long haul.
Sign up on www.mariewatts.com to receive future Stories About Life delivered to your email address or read more stories by clicking here.
Photo by Vera Davidova on Unsplash