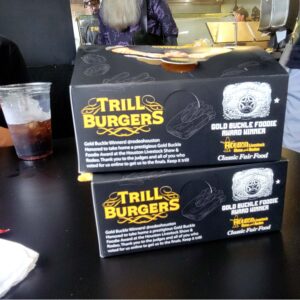 This week I joined the masses (including elites such as Ludacris and Drake) in a quest to taste the Trill Burger, proclaimed best hamburger in the nation on Good Morning America on July 29, 2022.
HISTORY OF TRILL BURGER
According to their website:
Co-founded by Houston rap legend Bun B (Bernard Freeman), restaurateur Andy Nguyen and Nick Scurfield, Trill Burgers was established in Houston in the summer of 2021 during the COVID-19 pandemic. Starting with pop-ups at local culinary events, we quickly gained notoriety for our mouthwatering smashburgers made with two all-beef smashed patties, caramelized onions, pickles and our patented Trill Sauce on a potato roll bun. Trill Burgers earned the title of best burger in America from "Good Morning America" in 2022 and has been a certified hit at music festivals across the United States including Coachella, Rolling Loud, Something in the Water and Rock the Bells. ​
​​Trill Burgers also won a coveted Gold Buckle Foodie Award for Best Classic Fair Food at the 2023 Houston Livestock Show & Rodeo. Led by our chef partners Mike Pham and Fernando Valladares, we served more than 41,000 burgers in 20 days at the 2023 Rodeo — a testament to the support from our hometown. We have been proud to support local charities including Chris Shepherd's Southern Smoke Foundation and Second Servings of Houston, among others.
In 2022, we hosted a pop-up at City Hall in conjunction with the City of Houston, serving 2,000-plus customers in one day. Falling on National Cheeseburger Day, the day was proclaimed "Trill Burgers Day" by Mayor Sylvester Turner. We were thrilled to open the doors to our first brick-and-mortar location in Houston on June 7, 2023, in the Montrose neighborhood of Houston. Formerly home to a historic James Coney Island location, the space will feature a drive-thru to help us serve as many customers as possible. Keep it Trill!
TRILL BURGER SIMPLE MENU
The menu is as simple as it gets.
Regular OG burger

Triple meat OG burger

Vegan OG burger

Triple vegan OG burger

Child's burger

Combos with French fries, soft drink included
ATTEMPTS TO EAT A TRILL BURGER
While I don't listen to rap, I do read the Houston Chronicle every day. When the first permanent location opened, I happened to be in Houston and the media buzz was intense. My grandson, who is a senior in high school, came home from work that evening. I asked if he wanted to do something wild and crazy—go to the grand opening. It was only four miles. To my surprise he said, "no."  Really? How many grandmas would offer to take you to a place like that?
Undeterred, I headed that way the next day at lunch time but was dismayed by the lines. While I am crazy, I am not that much of a hamburger foodie. But, back in Houston on Thursday, I forced my grandson to go with me to lunch there, even though he protested. The place was still a zoo at 1:30, although the line down the side of the building was shorter than the day after the grand opening.
Finding the parking lot full, we secured a nearby place to park and hiked to the restaurant. The heat was the issue. We stood in line, all the while my grandson complaining. At least we were in the shade, and the joint made cold water readily available outside. After about thirty minutes, we were in.
TRILL BURGER ASSESSMENT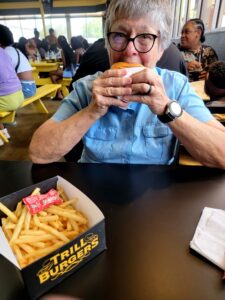 And the burger, it was great, even my grandson had to admit. So different from regular burgers. Would I stand in line for one again? No. And my grandson agreed. I'll wait for the lines to disappear before I attempt it again.
But now, I've knocked something off my bucket list. I've eaten the best hamburger in America.
Bon Appétit!
Sign up on www.mariewatts.com to receive future Stories About Life delivered to your email address or read more stories by clicking here.