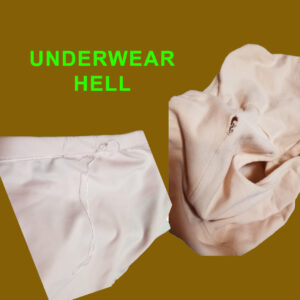 Lately, I've been stuck in underwear hell. Hope this isn't TMI for you, but the issue has driven me to the soapbox. After losing a good deal of weight, my undies began drooping. First, I headed to a big box store and spent a good fifteen minutes searching for the perfect package of briefs.  And yes, they fit.
However, after two washings, one began to unravel. Because I am so cheap, I continue to wear them. Desperate, I turned to Amazon bought more expensive underpants. Low and behold, the seams started to come apart on two of them.
What am I doing wrong?  First, I reviewed the basic underwear washing steps:
Read the garment care tag. (Whoops!
     Never do this.)
Pre-treat any stains immediately. (This is really TMI. I would never tell you if I did.)
Turn your underwear inside out. (News to me.)
Wash with similar items. (At least this missive is in my favor.)
Set the machine to the correct cycle and water temperature setting. (Uh, does light wash count?)
Choose a mild detergent. (Struck out again–just use regular detergent.)
Remove your washed clothes immediately. (Follow this tenent most of the time.)
Hmm. So, I don't quite live up to these suggestions. My next research idea was to attempt to find directions that confirm the way my cleaning procedure is valid and the manufacturers are at fault for shoddy construction. Boy, was I in for a shock.
Cold water.
Delicate specific detergent.
No aggressive scrubbing or stretching.
For extra delicate lingerie, put between towels and press to absorb excess moisture. (What? And now towels to put in the wash?)
You have got to be kidding. Handwash my underwear? Really? Who has time for this?
Unbeknownst to me, dryer heat ruins the elasticity and breaks down the fabric.  Pundits state you should line dry, one even suggesting hanging the unmentionables outside!
 Sigh… What's a busy woman to do? There is no room in my laundry area to lay out garments to dry. My gun safe takes up too much room. Guess I'll just keep buying the cheapies and throwing them out—less stress in the long run.
Sign up on www.mariewatts.com to receive future Stories About Life delivered to your email address or read more stories by clicking here.