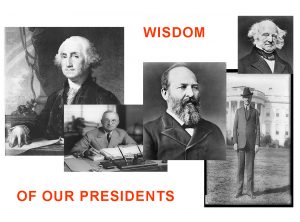 For many of us, Presidents' Day is just another excuse for a three-day holiday.  But let us pause to take stock of the day and remember past presidents who swore to defend the Constitution of the United States.  What better way than to ponder a few quotes from our leaders.
How far you go in life depends on your being tender with the young, compassionate with the aged, sympathetic with the striving, and tolerant of the weak and the strong. Because someday in life you will have been all of these.  George Washington
Nothing in this world can take the place of persistence. Talent will not: nothing is more common than unsuccessful men with talent. Genius will not; unrewarded genius is almost a proverb. Education will not: the world is full of educated derelicts. Persistence and determination alone are omnipotent.  Calvin Coolidge
If civilization is to survive, we must cultivate the science of human relationships – the ability of all peoples, of all kinds, to live together, in the same world at peace.  Franklin D. Roosevelt
America is never wholly herself unless she is engaged in high moral principle. We as a people have such a purpose today. It is to make kinder the face of the nation and gentler the face of the world.  George H.W. Bush            
In reading the lives of great men, I found that the first victory they won was over themselves… self-discipline with all of them came first.  Harry S. Truman                                         
Everyone has his superstitions. One of mine has always been when I started to go anywhere, or to do anything, never to turn back or to stop until the thing intended was accomplished.  Ulysses S. Grant                                            
There are men and women who make the world better just by being the kind of people they are. They have the gift of kindness or courage or loyalty or integrity. It really matters very little whether they are behind the wheel of a truck or running a business or bringing up a family. They teach the truth by living it.  James Garfield
I never considered a difference of opinion in politics, in religion, in philosophy, as cause for withdrawing from a friend.  Thomas Jefferson 
It is easier to do a job right than to explain why you didn't.  Martin Van Buren
 Any man worth his salt will stick up for what he believes right, but it takes a slightly better man to acknowledge instantly and without reservation that he is in error.  Andrew Jackson
 I hope these thoughts spur you to action regardless of where you are on life's journey.