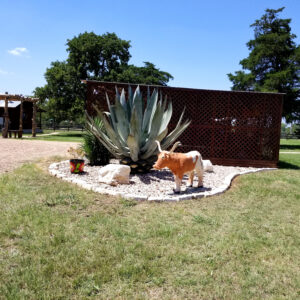 Country living brings me close and upfront to the cycle of death and rebirth. This month, I performed an assisted suicide for the most stubborn hardy injurious infuriating gigantic Agave americana aka century plant I have ever known.  
 BIRTH PHASE OF THE DEATH AND REBIRTH CYCLE
Our acquaintance began around 2003 when a neighbor brought us a small succulent in a gallon container. Being too busy to nurture the newcomer, I left it to its own devices, ignoring it as often as possible, even failing to nourish it in any form or fashion. (Note: My husband and I continue to argue about the actual arrival of this creature. The date is approximate.)
 ADOLESCENCE PHASE OF THE DEATH AND REBIRTH CYCLE
Several years later we built a house and planted the youngster as well as another succulent in a small plot near our carport. Again, the thing with razor-edged leaves tipped with a deadly sharp spine felt right at home, adjusting to the new arrangement.
 ADULT PHASE OF THE DEATH AND REBIRTH CYCLE
   Holy crap! The plant got fricking big, crowding out anything else in the small enclosure. Eventually, a landscaper came to the rescue, enlarging the area to accommodate the rotund monster, chopping off the bottom leaves.
During this phase, I labored diligently to crush any babies as I envisioned my whole yard being overwhelmed with the progeny of this scary fiend.
 HOSPICE PHASE OF THE DEATH AND REBIRTH CYCLE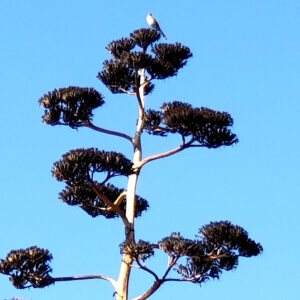 In the spring of 2020, as the abomination neared its seventeenth year, it bloomed. This phenomenon only occurs once and the plant begins a long, tortured descent into oblivion. (Why they are called century plants is beyond me as their life span is not one hundred years.)  
ASSISTED SUICIDE TO SHORTEN THE DEATH AND REBIRTH CYCLE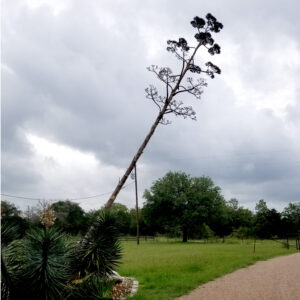 R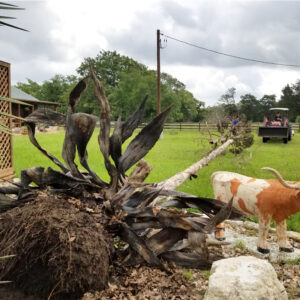 ain and wind whipped the ranch into a frenzy in May of this year. After one particularly violent storm, I finally succumbed to my husband's nagging to hasten the death of the once-proud plant. It chose to lean haphazardly any way the wind blew and my fear that it would crush my carport, or even worse, my statue of Bevo, the University of Texas mascot, forced me into action.  
Reluctantly, I watched as my husband pulled the mammoth down. Then my grandson and I finished it off with the chain saw. (We did try an ax but it was a nonstarter).
Lastly, after some work to remove as much dirt as possible from the root ball, my husband hauled the carcass away with the tractor. 
 REBIRTH PHASE OF THE DEATH AND REBIRTH CYCLE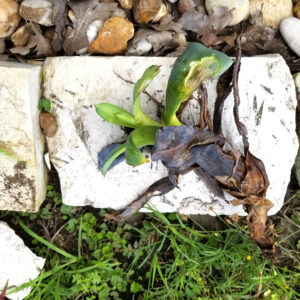 A deep crater and one baby are the only remaining remnants. I toyed with what to put into the yawing hole that would be less threatening. But, staring at the flowers planted in the same bed which are eaten to numbs by the deer, the realization that my laziness and lack of green thumb were signals from above that the baby should be replanted and fulfill its legacy.  
Truly, my rebirth from COVID jail has left me more inclined to promote rebirth in other living things. And, in that, I find joy.  
 What rebirths have you witnessed recently?
Sign up on www.mariewatts.com to receive future Stories About Life delivered to your email address or read more stories by clicking here.