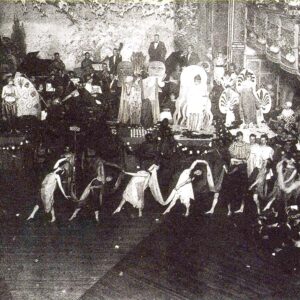 All the drag queen brouhaha got me to thinking. (A dangerous thing for me to do!) Recently there have been a spate of threats and attacks against drag queen performances. The Gay & Lesbian Alliance Against Defamation reported that more than one hundred twenty drag shows have reportedly been threatened, protested, or attacked in 2022.
What in the world is going on?
DRAG QUEEN HISTORY
Men in women's clothing has been around for years. In the 16th and 17th centuries, women were not allowed on stage so male actors in plays (think Shakespeare) dressed as women. It's believed that the word "drag" came from the fact that their dresses would drag the floor.
DRAG QUEEN CRAZE
The Pansy craze from the 1920s until 1933 was comprised of members of the lesbian, gay, bi, trans and queer (LGBTQ) community performing drag on stages around the world.
Natalie Zarrelli stated:
The Rockland Palace's Hamilton Lodge could hold up to 6,000 people—and it was often packed for its annual Masquerade ball and frequent drag shows. With probably the best tabloid headline ever written, "FAG BALLS EXPOSED. 6,000 CROWD HUGE HALL AS QUEER MEN AND WOMEN DANCE." The Vanderbilts, the Astors, and others from high society often came to watch.
Men who dressed as women were often called "pansies", while women who dressed as men were "bull-daggers" or "bull-dikers."
Who knew?
DRAG QUEEN STIGMA
Prohibition ended; The Great Depression began. A backlash against the cultural experimentation of the 1920s cropped up; many blamed it for the economic collapse. Part of the reaction included laws and regulations barring eating and drinking establishments from hiring gay employees or serving gay customers. To top it all off, a wave of high-profile sex crimes provoked panic and the sex criminals were often equated with gay men.
Homosexuality was now dangerous!
DRAG QUEEN POLITIZATION
Lately, drag queen shows and children's story times have been enjoying surging popularity. In fact, I attended a drag brunch in Austin, Texas with my daughter this year. No kids were present. It was a hoot, and we thoroughly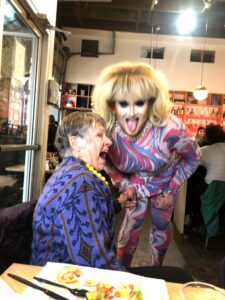 enjoyed it. However, the art is being co-opted by politics.  A vocal group believes that drag queen story times are designed to groom young children and adolescents to adopt unhealthy self-identities, often leading to aberrant and harmful sexual behavior.
According to the American Bar Association, aspects of sexual grooming may include:
targeting the victim, 
securing access to and isolating the victim, 
gaining the victim's trust, and 
controlling and concealing the relationship. 
In my mind, I'm not equating attending story time with two of the four key components of sexual grooming. They certainly are not securing access to and isolating the victim nor controlling and concealing the relationship.
In fact, some suggest that seeing a drag queen may be reassuring to youngsters who are already questioning their identity.
MY THOUGHTS ON THE DRAG QUEEN BROUHAHA
Homosexuality has been documented throughout history, stretching back to the Greeks and Romans. It has always been with us. In my opinion, God made some people this way just as he made some people left-handed.
This is the United States. We are supposed to have freedom of religion and the pursuit of happiness.
You do not have to go to drag shows or take your children to story hours. However, those who want to should be free to attend without fear of harassment and threats.
Exposure to persons who are different from you early on is vital to your ability to function in a diverse society. Learning to treat those different from you with dignity and respect because they are human even if you disagree with their behavior will take you a long way in life.
As we approach the new year, we should all take a step back and consider what it means to love one another and to treat others with dignity and respect. I cannot change others, but I can change myself.
Sign up on www.mariewatts.com to receive future Stories About Life delivered to your email address or read more stories by clicking here.