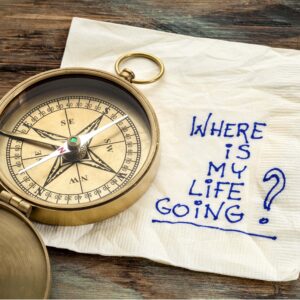 Having a purpose in life is essential to a meaningful existence.   Life purpose means setting goals and determining a direction for your future.  With this road map, you are more likely to feel good about your path and the reasons for your actions.  Additionally, it can lead to a sense that you are contributing to the world in a positive way. 
 Many of us have been drifting for the past two years, waiting for the pandemic to disappear.  However, the reality is that we aren't likely to erase COVID from the earth anytime soon.  In fact, our isolation during this time period has helped erode our purpose in life.  So, developing or re-working a plan is essential. 
 ASPECTS OF PURPOSE IN LIFE
Purpose can be found in different areas:
Prosocial. Defined as a propensity to help others and influence the societal structure
Creative.  Defined as artistic goals and a propensity for originality
Financial. Defined as goals of financial well-being and administrative success
Personal recognition. Defined as one's desire for recognition and respect from colleagues
 DEFINING YOUR PURPOSE IN LIFE
If you're struggling to find yours, John Maxwell suggests asking yourself these five questions:
What do you do well?   People are only successful by doing things they do well, so discovering your talent is crucial.
What do your friends say you do well?  Sometimes things come so easy to us that we don't recognize them as special gifts.  Those around you will be able to point this out. 
If you could do or be anything, what would you do or be?  What do you like to do in your spare time?  While working, what are you doing when time seems to fly?  What types of projects do you seek out?   These should align with your talent.
What gives you results when you do something?  What tasks do you do that get you awards and acclaim?  After all, what good is the knowledge if it is not used?
How can you get better?  Once you've set goals, go for it!  Work to fine-tune your strengths. 
 Did you know that reading and writing can assist in developing purpose?  Reading provides an insight into how others find and develop purpose in their lives.  By writing your own story, you are able to hone in on your own strengths and how you overcame adversity.  (This is great news!  Gives me an excuse to keep reading and writing.)
 What is your purpose in life?
Sign up on www.mariewatts.com to receive future Stories About Life delivered to your email address or read more stories by clicking here.