Today is Theodor Seuss Geisel's birthday. Mr. Geisel is known to most of us by his pen name, Dr. Seuss.  Geisel (1904-1991) was born in Massachusetts.  While he published over sixty books, the Cat in the Hat stands out for me. This was the first book I read, taking me two days to complete.  (OK, don't make fun of me. I was at school during the day, so I didn't have that much time to read.)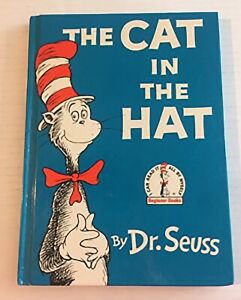 The Cat in the Hat, published in 1957, was written in response to a 1954 Life magazine article criticizing children's reading levels.  The publisher challenged him to write a children's primer using 220 vocabulary words.  ​Currently, the book​ is the second best-selling Dr. Seuss book of all time (​Green Eggs and Ham is first).  Furthermore, it is the ninth best-selling children's book of all time.
 Scholars are turning their attention to his bodies of work and examining the racist leanings in his writing and cartoons.  Before writing children's books, Geisel did political cartoons, worked in the Standard Oil advertising department, and, during World War II, made animated training films and drew propaganda posters for the Treasury Department and the War Production Board.
 And, indeed, many of his depictions and, in a number of his children's books, contain unflattering caricatures of Asians, African Americans, and Arabs when he bothers to represent them.  Female characters are passive.  The physical evidence is undeniable.
 However, Geisel also created Yertle the Turtle, which has been called an anti-fascist parody of Hitler.  Horton Hears a Who! was dedicated to his Japanese friend and can be seen as an attempt to apologize for his racist war-time cartoons.  The Sneetches (1961) developed out of an essay he wrote that was critical of racist humor.
 Yet, I'm still struggling with the labels of racism in his books with non-human characters, namely The Cat in the Hat, The Cat in the Hat Comes Back, The Sneetches, and Horton Hears a Who!   A 2019 academic study charged that these books transmit Orientalist, anti-Black, and White supremacist messages through allegories and symbolism.
 According to the research, the black cat's appearance was inspired by a Black female elevator operator at the Boston offices of Geisel's publisher. Geisel gave the cat the same white gloves, color, and sly smile of the operator.  Additionally, his outfit and characteristics are reminiscent of blackface minstrel performers portrayed in movies.  Furthermore, the cat's job, like that of a blackface performer, is to entertain and perform tricks for the White children.  (And yes, Geisel even performed in blackface in high school.)   
 As a small child, I did not know any of this background information.   I just saw the cat as a thrilling, funny character who made a mess and disappeared.      
 So, how do we handle this in the future?  I see discussing the obvious examples and placing them in their historical context. For the time being, I'm not voting to throw the non-human character books.  They can be interpreted differently by those who have no knowledge of Geisel's past nor of American cultural dynamics and symbolism involving racism and sexism.
 Only time will tell.
Sources:
Dr. Seuss downloaded from https://www.biography.com/writer/dr-seuss on February 25, 2020.
The Cat is Out of the Bag: Orientalism, Anti-Blackness, and White Supremacy in Dr. Seuss's Children's Books by Katie Ishizuka, The Conscious Kid Library, and Ramón Stephens, University of California, San Diego, downloaded from https://sophia.stkate.edu/rdyl/vol1/iss2/4/ on February 25, 2020.
Dr. Seuss' racial history draws controversy by John Wilkens, October 8, 2017, downloaded from https://www.sandiegouniontribune.com/entertainment/books/sd-me-seuss-racism-20171005-story.html on February 26, 2020/