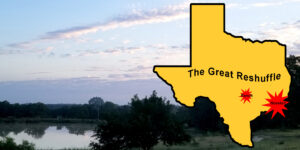 I am proud to be an early adherent to the great reshuffling.  In 2003, I lost my job, became self-employed full time, and, tired of the Houston rat race, moved to my second home in rural central Texas.  (Something had to give.  I couldn't afford both places.)  Fortunately, my choice was sound.  My fifty-acre ranch provides privacy; with no views of neighboring houses.  The sounds of nature abound.    
Since the pandemic began, many who were allowed to work remotely, have jumped on the bandwagon, moving away from coastal cities to more affordable areas.  This trend shows no signs of abating.
THE GREAT RESHUFFLING PROS
In 2003, despite living three miles down a dirt road, I was fortunate to have internet service through our local telephone cooperative, allowing me to conduct business at home.  Satellite TV kept us connected with the rest of the world.  Today, the area has upgraded tremendously.  The road is paved; my service is fiber optic.  Yet, because I have an agricultural tax exemption, my property taxes are extremely low.  I pay around $7,000 less in property tax a year than my daughter on a postage-size lot in Houston.
And eating out is much cheaper.  While we do have an upscale restaurant or two, most are reasonably priced.  People don't really dress up, so buying expensive clothes is not necessary.  Traffic is, for the most part, light, especially when compared to Houston.  I can be at a decent grocery store in twenty minutes and find other basic necessities at the local Walmart.     
It's hard to spend money on entertainment.  Movie theaters are outside the county, but there are plenty of church and fire department fundraisers involving live and silent auctions, outstanding food, and sometimes dancing and beer.
More importantly, Amazon has honed its skills.  Anything our heart desires is here with a click of a button.  The wi-fi extender I ordered yesterday is on the truck and will arrive at my patch of heaven today.
What if I want some real shopping and upscale restaurants?  No problem.  San Antonio and Houston are two hours away; Austin in one.
THE GREAT RESHUFFLING CONS
The population movement is causing local property prices to skyrocket.  My ranch value is beyond my reach today.  The escalating costs make it difficult for those with lower incomes to afford to buy.    
Then, some natives complain about us big-city folks who have come in and taken over, changing the landscape.  We now have a community theater and antique stores.  Businesses have been forced to open on Sundays to keep up with the demand by weekenders. 
Change, however, is inevitable.  Since the great reshuffle, the county's population, once in steady decline, has grown, although still not to its peak in 1900.  Without the influx of newcomers, the county would continue to wane.
As Harold Wilson said, "He who rejects change is the architect of decay. The only human institution which rejects progress is the cemetery." 
For companies, however, the downside of having remote workers is the loss of synergy.  An online meeting can't take the place of stopping by a colleague's desk and having a quick brainstorming session or running into someone in the restroom or break room and having a short conversation about an issue or concern.  Camaraderie develops over lunches and office parties.  While these might seem like time wasters, they enrich life and encourage loyalty.
THE GREAT RESHUFFLING FUTURE
Who knows where this change will lead?  I'm just banking on a self-driving car and teleportation in my future. 
Will you join the great reshuffling?
Read my other Stories About Life here.