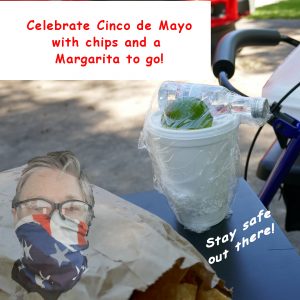 Tomorrow is Cinco de Mayo (May 5).  The date commemorates the Mexican army's victory in 1862 over France at Puebla.  There, approximately 2,000 ragtag Mexican soldiers mostly of indigenous or mixed ancestry, held off a force of 6,000 French soldiers.  Interestingly enough, it currently draws little attention in Mexico.
In the 1960s, Chicano activists in the United States alerted others to the holiday because they related to the victory of the native Mexicans over European invaders. Since then, in the U.S., the day has morphed into a celebration of Mexican culture and heritage.
As a native Texan, the Hispanic culture has always been a part of my life.  My earliest memories were as a preschooler in the 1950s eating at Mrs. Moreno's Mexican restaurant on East Texas Avenue in Baytown.  My fondest recollection remains the warm corn tortillas, which my family would slather in butter and salt copiously.  (Hmm. Butter and salt must be a white southern thing.)
In those days, my family had three go-to restaurants—Scotty's BBQ, The Tower, which served traditional dishes such as fried fish and chicken, and Mrs. Moreno's.  To this day, of all three restaurants, the corn tortillas still stand out.  After some research, I found that the restaurant ground its own corn to make the tasty treats.  No wonder I'm still awed after all these years! 
My appreciation of the Hispanic culture has grown, and I am proud to count many Hispanics as friends.  Their family-centric values and work ethic—and fabulous food—make them an essential part of the fabric of our American society.  
So, please join me in a salute tomorrow at 5 'o'clock with margaritas, chips, and salsa. 
Salud, Mi Amigo!
P.S.      If you are in need of a skinny margarita recipe, check out my YouTube video at   https://www.youtube.com/watch?v=Pc-uMgC-Or4&t=161s