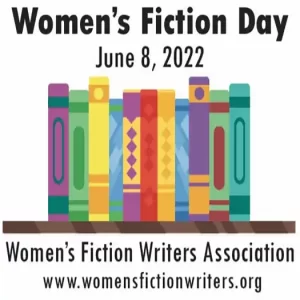 Please join me in celebrating Women's Fiction Day on June 8, 2022. The day lauds women's fiction authors, novels, publishers, and book sellers as well as readers who appreciate women's fiction and the power of a great story. The event is hosted by the Women's Fiction Writers Association (WFWA). I owe everything to this group. They have my back.
In case you were wondering exactly what women's fiction is, I have lifted this definition from the WFWA website:
Women's fiction is a writing genre that includes layered stories in which the plot is driven by the main character's emotional journey. The stories can be contemporary or historical, and may have magical, mystery, thriller, romance, or other elements. These are the works that people enjoy in book clubs and recommend to other readers.
WOMEN'S FICTION DAY GIVEAWAYS
The freebies for this event are fantastic. Over fifty authors have teamed up to offer free books, gift certificates, and more!  Check it out.
Also, please register for this specific giveaway from my talented author friends. I am in awe of their storytelling abilities. You won't be disappointed.
WOMEN'S FICTION DAY ACTIVITIES
 Monday, June 5, 2023
Tuesday, June 6, 2023
Wednesday, June 7, 2023
Thursday, June 8, 2023
Friday, June 9, 2023
Monday, June 12, 2023
Tuesday, June 23, 2023
Have fun, enjoy the week, and keep on reading!
Sign up on www.mariewatts.com to receive future Stories About Life delivered to your email address or read more stories by clicking here.